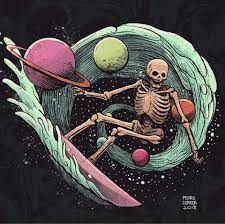 Review: Bones Of Love
Review for the CD, Bones Of Love, released 06/06/2018
Taken from the The Ark Of Music newsletter, June 12, 2018 
 Anchored in the beautiful Brisbane and the Sunshine Coast areas of Australia, is singer-songwriter, composer, guitarist, Tony McCall (a.k.a., Thuggee Tennessee).  
Primarily a solo artist these days, McCall writes gritty, unique songs about loneliness, isolation, insanity, murder, death, redemption, vengeance, the testing of faith, and the mystery of the great beyond—basically all of the best and meatiest stuff in life.  
His previous work includes 2013's Willing Spirit, as well as a host of singles, on most of which you'll find the direct impact of McCall's vocals. However, on his latest EP, Bones Of Love, McCall was happy to simply play the role of writer/composer, allowing a small number of talented locals to accomplish the task on tape.  
"Only the song matters."  
HERE'S WHAT WE DUG MOST… 
Elements of country, bluegrass and blues casually drift through the gate in the opening track, Whereabouts Unknown, a track whose happy-go-lucky melody comprised of keys and banjo, just might make you forget about the murder, death and decay around which the lyrics are centered…  
"The dirt below our feet reclaims all things  
We'll have to see what tomorrow brings  
Ain't no good to ask the lord to set things right  
Everyone's fallin' a long dark tunnel, toward the same light…"  
The James Taylor-esque, Music Of Love, falls right in the wheelhouse of that classic 80's-style adult contemporary sound. A tribute to the craft of songwriting and the effect music has on all of us, it's a piece to be proud of.  
OUR FAVORITE TRACK…  
The wonderfully slow-motion, Our Island Days, is a wildly unique melding of some beautiful, ambient guitar and synth tones with a sultry vocal timbre, creating a vibe which sounds like something off of Morcheeba's brilliant album, 2002's, Charango. This is a cool tune, and our favorite on the album.  
"It's a big stew of stuff which sometimes probably lacks cohesion. I never cared about that anyway. I'm just looking to make a connection."  
—Tony McCall, regarding his music  
A hauntingly gorgeous lap steel moans far-off in the background as the early-era Eagles-like melody of, It Leaves Me Cryin', unfolds to reveal another bit of touched songwriting. This love song to the universe of all things gives words to the underbelly of sadness that reveals itself in the impermanence of life. It's a beautiful song…  
"I saw your face in a constellation  
Deep in the stars, far beyond time…"  
IN CONCLUSION…  
Tastefully dark. Delightfully bright. Splashes of humor. Appropriately sincere. And, undeniably laced with hope. Thuggee Tennessee's latest EP, Bones Of Love, represents a fine effort from a continually-evolving songwriter who has found the courage to step aside and let others perform his work in ways he might not be able. It is wildly obvious that McCall took tender, meticulous time in crafting these five songs, which are distinctly different from one another, and yet all share a common thread of thoughtfulness and substance. 
 Review: Bones Of Love
And this from the SCALA newsletter....  
SCALA Songspeak Newsletter Issue #138     August 10, 2018  
Tony McCall has gone to the trouble of sending demos of several songs OS to have them recorded and mastered - at the Pro Studios in Los Angeles, no less! This happened between October 2017 and June this year. Tony says he's delighted with the results, 'which scrub up pretty well', adding that he 'could never do vocal justice to the songs' and that 'a couple needed a female singer anyway'.  However, there's no doubt at all about the high standard of lyrics and music on each of the five tracks on Bones of Love.  
A grim pun on bones is developed in the opening song, 'Whereabouts Unknown', where a murderer, a man himself mistreated by the world, narrates his choice to strike back. He tells us in the chorus: 'Ain't no good to ask the Lord to set things right /Everyone's fallin' down a long dark tunnel, towards the same light....'A reference in the lyric to Mr Henry and cleaver may be a subtle hat tip to Bob Dylan (Basement Tapes), and using an up-tempo rhythm assisted by very good keyboard, guitar, violin and cello (?) cleverly prevents the mood getting too 'dark and stark'.   
'Music of Love' follows, in no little contrast, being simply an extended metaphor in which making music is seen as akin to making love. For example: 'I take the beat from my heart and I put it in the music of love....' OK, one might feel this is heading for cliche-land, but don't we all benefit from a little whimsy/silliness at times? Consider (again) Mr Dylan's 'Peggy Day' from Nashville Skyline..... A harmony female vocal, lovely keyboards and sensitive drumming help the mood and fun in this track.   
Next we might anticipate we're landing in Christina Anu country, with 'Our Island Days', where 'surf and golden sand' are in abundance for lovers to 'walk in moonlight'. The languid, beguiling mood is strengthened with some sweet pedal-steel guitar that reminds me of the Mamas and Papas, at the same time emphasising that our own summer isn't all that far hence!  
Then a very different love song, 'It Leaves Me Cryin'', where Tony's focus is way above and beyond the merely physical. The special woman, in fact, is 'like an angel from a star', and her 'timeless beauty' is part of a 'love divine..... transcending earthly things...' Phew - she sure has a lot to live up to! I like the use of keyboards and steel guitar in this track, my reservations being with the New Age-ish aspects of the song!   
To round off his EP comes Tony's 'Latin Man'. It's a total hoot, and mariachi rules as South American dancers jump and sway to samba rhythms and trumpets dominate beautifully.  A master stroke by Tony is his rhyming of 'maracas' with 'Caracas'.  Cole Porter, eat your heart out! 
Geoff Hastwell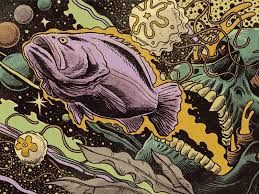 Review: Willing Spirit
Andrew Greenhalgh
(Review You) - May 30, 2013
.... McCall is one heck of a songwriter. He manages to conjure up great images of country living such as that on "Dick Desert" as well as a hard-knock workingman's life on "Cuttin' Cane." "Lady In Waiting" is an easygoing tale, beautifully told while "A Stockman's Passing" is a powerfully sad tale in the true country tradition.
Matheson Kamin
(Rock & Roll Report, Cleveland Free Press) - June 13, 2013
.... The six-song debut release from Thuggee Tennessee is called Willing Spirit.  
Willing Spirit from Thuggee Tennessee begins with the track "Mudslide Blues". The song features simple lyrics about the type of creatures found around the area that McCall calls home. It brings to mind the song "Louisiana Man" from Doug Kershaw. And with the inclusion of the fiddle playing by McCall on the track, there is more than just one comparison to that older tune.  
The album continues with the song "Lady in Waiting". The track takes on a feel that would remind some people of music from country artists from back in the 1960's. "Lady in Waiting" once again features some strong playing on the fiddle and the mandolin that help to give the song that undeniable country sound.  
With the track "Dick Desert and the Shotgun Country Club," Thuggee Tennessee pays tribute to some of the best known artists that either call or have called the genre of Country music their own, including one Dick Desert from Warwick, Queensland in Australia. Along with paying tribute to the legends of Country from yesterday and today, the track also contains some of the best traditional Country music sound that has been created in a long time. And the pairing of the fiddle and the steel guitar together in the song once again gives the listener an undeniably authentic sounding track of country music. The resulting track sounds as good as anything that could have been created over here in Nashville.  
As with many songwriters, Tony McCall deals with the pain of human existence. On the song "A Stockman's Passing," McCall writes a heartbreaking tale of a man whose life draws to an end and the moments leading up to that final breath when he is called from this life. The song writing ability of McCall is very evident on this track as you really do feel sorry for the stockman as he sees his life ending.  
As with "A Stockman's Passing," the song "Cuttin' Cane" finds McCall once again writing about the pain of human existence. On "Cuttin' Cane," McCall writes about the man who lives the day-to-day in the field working the various growing seasons. The style of the song brings to mind the writing style of Ontario-based singer-songwriter Gordon Lightfoot whose realistic writing style can also bring out the pain of existence.  
Willing Spirit from Thuggee Tennessee is a release that calls upon the country music artists of the past. During the release, Tony McCall stays true to those influences while creating his style of country music. The six tracks that make up the Willing Spirit release contain enough country flavour to make any fan of the style happy.  
*****